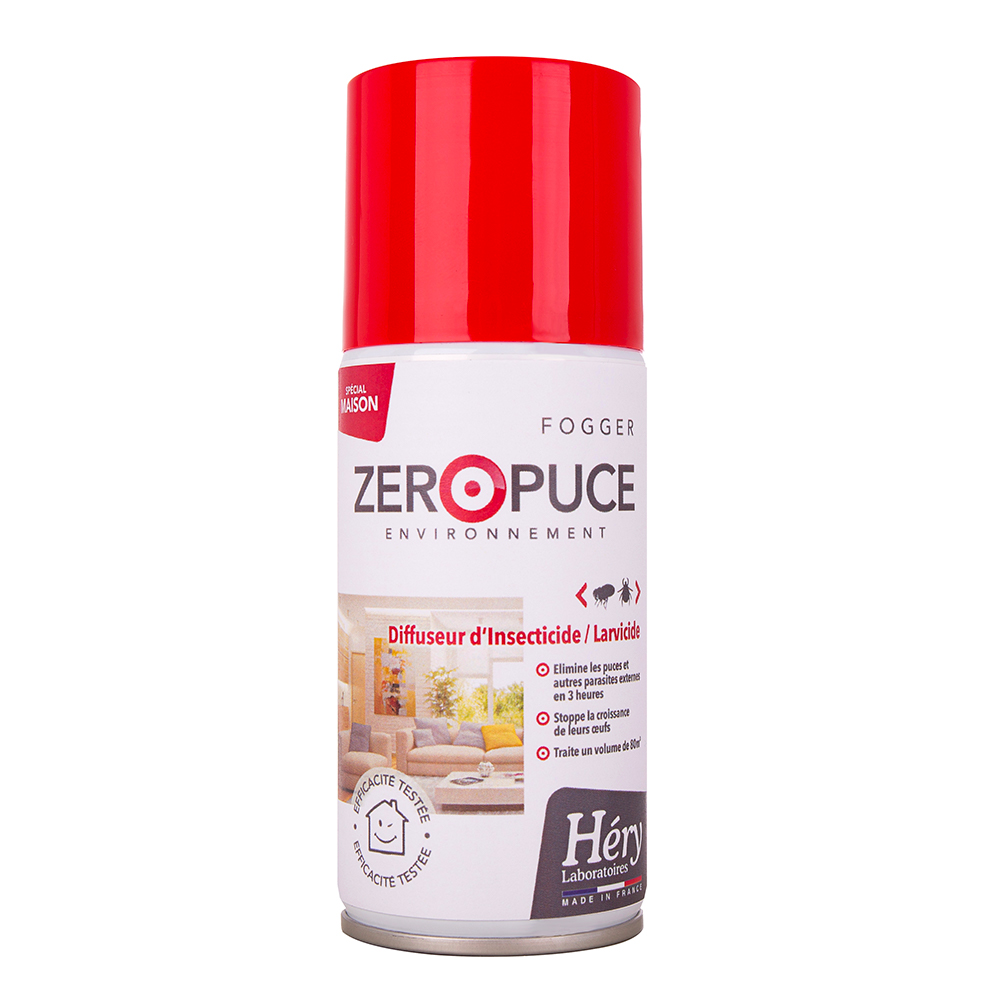 Zéro Puce – Fogger Spray
Insecticidal diffuser for the environment. Eliminates external fleas and ticks in 3 hours. Stops egg growth. Contains permethrin and a growth hormone inhibitor, S-Methoprene. Handles up to about 80 m3.
Our advices
Before treatment, close the windows and remove all plants and any living things that may be in the room to be treated (no one should be in the room) as well as all food for humains or animals. If you have an aquarium, stop the air pumps and cover it for at least 5 hours. Install the Fogger in the middle of the room. Shake the spray and press the tab to block it. Leave the room and close the door. Leave on for 3 hours. Then ventilate for 1 hour and vacuum. Repeat the operation if necessary every 2 weeks.
Precautions
This product should not be used on animals. Danger. Hazardous ingredients : Hydrocarbons C7, n-alkanes, isoalkanes, cyclics. Extremely flammable aerosol. Pressurised container : May burst if heated. Causes skin irritation. May cause drowsiness or dizziness. Very toxic to aquatic life with long lasting effects. Keep out of reach of children. Keep away from heat, hot surfaces, sparks, open flames and other ignition sources. No smoking. Do not spray on an open flame or other ignition source. Do not pierce or burn, even after use. Do not breathe spray. Use only outdoors or in a well-ventilated area. Wear protective gloves. If on skin (or hair) : Take off immediately all contaminated clothing. Rinse skin with water. If skin irritation occurs: Get medical advice/attention. If inhaled : Remove person to fresh air and keep comfortable for breathing. Store in a well-ventilated place. Protect from sunlight. Do not expose to temperatures exceeding 50°C/122°F. Contains permethrin (ISO), m-phenoxybenzyl 3-(2,2-dichlorovinyl)-2,2-dimethylcyclopropanecarboxylate (52645-53-1). May produce an allergic reaction. Not to be used for any purpose other than the one the product was designed for. Packaging must be disposed of as hazardous waste under the sole responsability of the holder of the waste. Do not empty into drains or in water. Evacuate anybody cold-blooded and warm-blooded food of the area being treated. Formulation Type : Aerosol Generator Ready (AE). Expiry date : see on aerosol. TP18. For professional use only. Contains : Perméthrine (ISO)(cas n°52645-53-1) : 0,98% m/m, S-Methoprene (cas n°65733-16-6) : 0,02% m/m, Piperonyl butoxyde (cas n°51-03-6) : 5% m/m. Use biocides carefully. Before use, read the label and product information.